---
---


Call or text to schedule your appointment
​Private office located in Quincy
​or schedule a service in the comfort of your own home
781-964-9293
---
Organic cotton products and linens are used


to create an

eco-conscious

environment.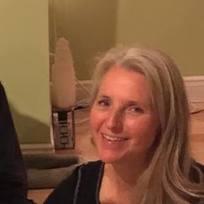 Christine has 30 years in the healing arts, with experience and continuing education in the related fields of skincare, massage, herbal-ism, yoga, and plant spirit medicine. Through her company, Skinsations by Christine, she has produced a Sea/cret Garden line of organic skin and body care products formulated primarily with herbal ingredients from her home garden on the Quincy shore since 2000. Christine was certified as a Yoga Instructor by the
Kripalu Center
for Yoga and Health in Stockbridge, MA in 1999. She teaches gentle, beginner, and intermediate Kripalu Yoga, a form of Hatha Yoga that incorporates breath work, meditation, and physical postures to quiet the mind. She has continued her training to offer Prenatal, Children's, Partner Yoga , Yin Yoga, Restorative,
Five Element Yoga


12 Step Yoga and Recovery


and Yoga Nidra
A licensed cosmetologist since 1987, esthetician since 1988 and a licensed massage therapist since 1995, Christine is trained in a variety of skin care, bodywork and massage modalities including facials, therapeutic, deep tissue, reflexology, sports, prenatal, hot stone and Thai yoga massage.
A Graduate in 2002 and life long student of

partner earth education center

in Danby Vermont studying herbalism and plant spirit medicine.
To discuss which type of service best meets your needs or to make an appointment, please call Christine at 781-964-9293. She is available, by appointment only, Monday through Saturday.
---
"Imagination is more important than knowledge, for knowledge is limited to all we know and imagination embraces the entire world and all there will ever be to know and understand!"
​- Albert Einstein

I had never even had a massage until age 60. Now, seven years and probably 150 massages later – all with Christine, I can attest to her incredible ability to provide comfort, relaxation and healing. She has helped me with several physical challenges and I cannot imagine being without her caring expertise.

Susan Carson
Norwell, MA
I have been Christine's client for over 20 years and highly recommend spending an hour with her. Christine's massages always leave me feeling relaxed and rejuvenated. She has the ability to work the sore spots and her homemade remedies are a treat. Her natural remedy suggestions for the various ailments I've experienced have been very helpful, as well.

Maureen O'Malley
Marshfield, MA